Pre Bonded Hair


Our most popular extension method. Hair is pre tipped with keratin adhesive which is heated into the hair to create small bonds. The extensions are removed easily and safetly using a solution created to break down the leratin bonds. Pre Bonded Extensions are available in 18 ,20, 22 and 24 inch and will last up to 5 months, or if desited, can be rotated on a monthly basis so extensions can be worn perminently. Application time 2-3 hours.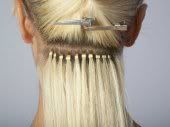 These hair extensions are attached with tiny rings that come in several colours for a close match to your hair colour. They come in different sizes for different hair textures. They are made from either specially formulated polymers or nickel. Both of these are used with a tool similar to a crochet hook that pulls a strand of your hair through the ring. Another tool is used to clamp the ring tight to hold the hair in place. **This is a great hair extension method that does not use glue or heat. It is not recommended for hair that is very fine or very short. It will provide an undetected freefall and natural effect and last for up to 3 months.**


Cinderella hair extensions

Without a doubt the best hair extensions are the ones you can't tell, often they're left too long! The secret is to keep them looking as natural as possible.



Cinderella's pre-bonded Hair Extensions come in a range of styles and textures. Only the softest and silkiest 100% human hair is used with a remy grade quality.
All the hair is cuticle correct (cuticles face the same way to avoid tangling).
Quality controlled. Each bundle has a Remy Grade Approved Certificate.
Only the softest and silkiest hair is used.
Cinderella's hair extensions have a protein moulded bond (PMB).
The bonds are made of protein and will not harm the hair.
The hair comes prepared and is simple to apply.
There are 51 different colours to ensure a perfect match.
Easy to remove by a professional.

1. BOOK A FREE CONSULTATION


Firstly a consultation is needed in order for me to assess the condition of your natural hair, to perform a perfect colour match and to discuss the fitting method most suited to you. During the consultation I will also go into detail on how the extensions are applied and answer any questions and queries you may have. It is then up to you to make the decision on whether to go ahead with the fitting, you will never be pressurised in any way. If you do decide to book, a small deposit of £100 will be required at this stage in order to secure an appointment.

2. GETTING YOUR EXTENSIONS FITTED



Most hair can be fitted in as little time as two days after the consultation. The fitting time for a full head averages at 2-3 hours. All aftercare advice will be given to you during the fitting of the extensions.



3. MAINTENANCE APPOINTMENTS



Top Up Appointments are generally advised approx every 6-8 weeks. It is important to keep up the maintenance of your extensions in order to keep them looking good for the duration of their wear. A top up appointment will consist of checking your existing bonds, replacing any if necessary and the addition of new hair to keep your extensions looking fresh.



4. REMOVAL



It is important for the health of your natural hair to have your extensions removed after a period of 6/8 months depending upon your natural hair growth rate. Do not attempt to remove your extensions yourself as this is the main cause of damage.
Before fitting hair extensions you will require a consultation which is FREE to decide if you are a suitable candidate, what method would suit you best and finally to determine length and colour. This is free of charge. Once the colour match is done you must not re-colour your hair even if you are recolouring with the same shade, most colours will fade over time so this could result in the extension hair not blending in correctly.



Your hair should be long enough to fit into a ponytail in order for the extensions to look natural, if your hair is shorter than this the bonds may be visible. If the ponytail is very short you will have limitations on how you wear your hair, for instance you would not be able to wear it in a high ponytail as your own hair would show. The fitting methods are also limited for short hair ie. it is not suitable for micro rings. This will be fully discussed at the consultation

The Pros and Cons


PROS
You don't have to wait for your own hair to grow, you can have long hair in a matter of hours instead of waiting years for it to grow. If you hair is fine you can have thick, glamorous hair, something that would be impossible to achieve without extensions. You can add colour without the commitment of coloring your own hair and add curl without perming your own hair. If applied correctly, Hair Extensions will be easy to look after and won't add hours to your morning routine.


CONS
The main drawback is cost, in order for hair extensions to look great you need to use good quality hair and that comes at a premium. How hair extensions are applied is also very important, if applied poorly your natural hair will be damaged. Finally, not all types of hair are suitable for hair extensions, a thorough consultation will be needed to ascertain this.

**A non refundable deposit of £100 (£250 for cinderella) is required on booking, this will be deducted from the total price, due to previous time wasters this is non negotiable. Hair will not be ordered until receipt of the deposit, the hair is very expensive to buy and cannot be returned. There are no exceptions so please do not be offended.
Appointments can be re-scheduled but 4 days notice is needed. Cancellation will result in your deposit being lost so be sure you really want extensions before booking.**



The hair extensions we use are regularly worn by celebrities such as Katie Price, Cheryl Cole, Kiera Knightley, Suzanne Shaw, Michelle Gayle, Kym Marsh and many more. They are the preferred choice of hair extensions because of the high quality hair used...see for yourself!




IMPORTANT: Your hair sheds on a daily basis as part its natural process. It is normal to loose up to 50 hairs a day! Just because you have extensions in doesn't mean that this process stops. It continues but since your hair is held together by the extensions the hair is trapped in the installation and, therefore, not falling out into your sink or latching on to your comb or brush